Meet Our Team of Experts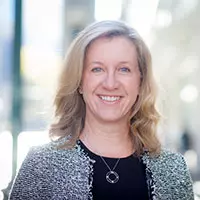 Susan Wright
Founder and Managing Director – Susan founded Compass Partners in 2004 after 15 years in Product Management at top tier consumer and technology companies, so she knows how to craft research studies that are tightly linked to answering challenging business questions. Clients trust Compass Partners for their actionable insights and holistic strategies. Susan is motivated by getting inside the perceptions, needs, attitudes and behaviors that drive purchase decisions and identifying the most promising market opportunities for any business.
Susan has an Engineering degree from Queen's University and is a RIVA certified moderator. She sits on the Board of Regents of Santa Clara University and is US Board Chair for The Equality Effect, a human rights organization. In her free time she mentors women back into the workplace after an extended absence to raise children. Read More
Laura Riley
Partner, Consumer Research – Laura brings 20 years of domestic and international market research experience to Compass Partners. Formerly, a partner at YouGov America (Harrison Group), Laura's areas of research specialization include both qualitative, as a trained moderator, and quantitative, with expertise across concept tests, segmentations, and conjoint analyses. Laura has completed strategic projects across of a variety of industries with an overall focus on technology and consumer electronics.
Laura graduated from Cornell University with Honors and Distinction, where she received her B.S. in Applied Economics and Business Management with concentrations in statistics, marketing and communications. She is known by her clients for being highly responsive, and a problem solver with true attention to detail. She is an exceptional communicator and can easily adapt to changing project demands and requirements. Read More
Laurie Urh
Director, Consumer Research – Laurie brings our clients closer to the consumer experience within Compass. She is a skilled, approachable interviewer, finds quality research participants for studies and proactively finds solutions to keep us all on track. She delights our clients with her insights, analysis and attention to detail and follow-up. She has leveraged her past business development background at key retailers on the client side to execute research and provide guidance on go-to-market strategies for new products and technologies. She is at home with qualitative or quantitative studies.
Laurie graduated with honors from the Rochester Institute of Technology in Rochester, New York with a B.S. in Business with a minor in Retail Management. She was a buyer for both East and West Coast Macy's divisions specializing in women's fashions before moving into to market research field. Read More
Mary Richardson
Mary is an experienced Brand Strategist and Market Research Consultant with a keen interest in emerging consumer technology. She has extensive experience uncovering and leveraging strategic consumer insight to build compelling, well-differentiated and enduring brands.
Mary specializes in helping clients identify target audience, define brand architecture and positioning / value proposition, assess market opportunities, test new product concepts, detect drivers and barriers to adoption and develop key business and marketing GTM strategies (product, pricing, packaging, marketing and communications). Mary graduated with a Bachelor of Commerce degree from Queen's University. Read More
References